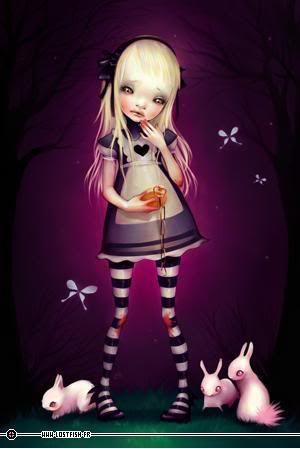 Photo Credit: LostFish
Clip of the Blue Alice:
[podcast]http://www.ayria.com/wp-content/uploads/ayriaheartsforbulletstrack08.mp3[/podcast]
Interesting Tid Bits about this song
1. This is the song that got me an "explicit" warning for the Hearts For Bullets CD since it has swearing in it.  I thought this was a GOOD use of the "F" bomb.
2. This song was a collaboration and is the only song on Hearts For Bullets that I didn't do the majority of programming and writing for.
3. I occasionally get tagged as "rap" on some sites. I think it's because of this song, and The Gun Song.  Despite the fact that I hate when people try and categorize my genre of music, I DID think it was very entertaining to be called a rapper!
4. The tempo of this song is 101 BPM.  Which is such an awesome speed that's rarely done these days.  This tempo used to be more common in Industrial (think Nitzer Ebb's Belief album and NIN songs) but with club music that's taken over, DJ's and/or artists seem to think that if a song goes under 130 BPM, they might explode… or something.
5. The original working title for this song was "I look better from the floor".
6. The lyrics for this song were inspired by a movie I saw and it was NOT Alice In Wonderland
7. This was the very last of all songs to be finished in production for Hearts For Bullets around mid June 2008.  After which, I had a glass of red wine to celebrate!
The Dissection:
This song is a collaboration between me and my amazing friend Jeremy Pfohl who happens to run Storming The Base in Toronto.  I actually love collaborating with other people. Some amazing vocal ideas have come out of collaborations since I'm free to concentrate just on the vocals which has always been my number one passion. Jeremy had started writing this loop that eventually became the first verse of "Blue Alice".  He played it for me, and I thought the synths were just amazing, and it had such a cool groove and such a rawness to it, that I asked him to pass the loop on to me so I could play around with ideas since he tends to just start loops just for fun.  I then recorded vocals over top of it, that ended up staying in the sonng as the first verse.  I had started chanting about fairy tales through a distortion effect, and he loved it so we decided to develop it further and complete it as a full song.
The Chorus
Writing the chorus came next but we found it really difficult to transition into something big and powerful.  Both the music and the vocals in our first draft, neither of us liked completely. The first draft of the song, I had kept chanting in the chorus but it really needed some vocal melody to change the chorus completely.  Then one day, the "Hey You Black and Blue" came to me and it was a line that instantly stuck in my head and forced Jeremy to program percussion around that new idea. It's like everything clicked once a powerful chorus was created.
The Bridge
Jeremy  ended up working on a bridge "synth solo" that comes in after the lyrics: "Little Pig Little Pig Put Her Down!" that  he was having so much fun with, it would have gone on for another 5 minutes if it were up to him.  But me, usually forgetting to take a pause in a song to STOP singing for a bit, found the synths leading a nice refreshing break and change.  And that synth solo part is so ridiculously sick! Seb enhanced it in production by adding breaks, and adding really amazing percussion in that part and in the chorus.  Here is the bridge synth solo in all it's glory:
[podcast]http://www.ayria.com/wp-content/uploads/Ayria-BlueAlice-Bridge-produced.mp3[/podcast]This week  I'm changing things up again, instead of isolating the raw vocals, I wanted to isolate the raw synths before production so you can admire their sick beauty and what they added to this song:
Here's the Verse Synth:
[podcast]http://www.ayria.com/wp-content/uploads/Verse-Synth-Solo.mp3[/podcast]2 Chorus Synths that layer together for a thick sound:
[podcast]http://www.ayria.com/wp-content/uploads/Chorus-Synth-Solo-1.mp3[/podcast] [podcast]http://www.ayria.com/wp-content/uploads/Chorus-Synth-Solo-2.mp3[/podcast]Finally the Bridge Synth "solo"!
[podcast]http://www.ayria.com/wp-content/uploads/Bridge-Sick-Synth.mp3[/podcast]
The Lyrics:  This Is One F*cked Up Fairy Tale..
The song is whimsical with dark fairy tale concepts running throughout in a sick and twisted, somewhat modernized way.  Here are the lyrics:
I hope I'm dreaming because this can't be awake
I hope I'm dead just for my sake
Who knew all this would come from a dirty gun
Son of a Bitch who thought he was a cowboy
The mad hatter Bashes your face again
Look into his eyes to see where evil lives
Bullet through window and down the rabbit hole
This is one f*cked up fairy tale
Hey You! Black and blue
Watch out, you'll end up like Alice
Hey You! Black and blue
Watch out, don't end up like Alice
You'll get what's coming, you and your children
The wicked witch has OD'ed on pills again
And the Dragon, lights up a cigarette
He's blowing smoke right into your face again
It's off with her head
Her snakes are seething
The big bad wolf is rabid and teething
Bullets through windows and down the rabbit hole
This is one f*cked up fairy tale
Little Pig little pig put her down
Slapped around choked and drown
I was inspired to start writing the lyrics to this song after watching a movie called "Running Scared" directed by Wayne Kramer. It's not uncommon that a book, an article, a show, the news, or a movie sparks my mind to start writing lyrics. It doesn't mean the whole song is completely about this movie, it just started my imagination down this dark fairy tale lyrical path.  This movie is a bloody, violent, cowboy, mob, fairy tale with a pretty gruesome UV lit hockey torture scene like no one has done before! It had all of these characters throughout the story that were modernized version of classic Grimm Fairy Tale characters. I debated explaining here which parts specifically from this movie I used in my lyrics, but if you're that interested, you can just watch the film yourself and try and figure it all out. I'm not saying it's the best movie ever, it's quite over the top, a strange plot and violent, but you might enjoy that 😉
Don't End Up Like Alice: The rest of the lyrics, I took from other favourite childhood stories, like Alice In Wonderland of course, which became the premise of the chorus and tied the whole song together, matching the tone of the verses by portraying a bit of a battered Alice who ends up black and blue and slapped around. I was already writting these dark lyrics, so there was no turning back and I created this image of an abused Alice that you have to be careful not to end up like.  A bit unnerving, but striking.
I recently purchased this Alice in Wonderland book and was thrilled with the illustrations in this version done by Camille Rose Garcia.  They are so wonderfully creepy!
The Little Pig reference was obviously a nod to the childhood nursery rhymes only mutilated to be about the pigs being nasty masochists, beating and choking Alice.  The "Off with her head, Snakes are seething" is a reference to Greek Mythology's Medusa, but also tying it in with the Queen Of Hearts from Alice In Wonderland, linking the fabled beheading of Medusa with the Red Queen's constant cry of 'off with their heads!".   Medusa is one of my favourite "villains" in stories.. although, arguably, not a villain at all, but that's another discussion..
I also really liked the anachronistic images of the characters.  Like the wicked witch overdosing on pills. Taking a fantasy character and giving her more modern qualities.  Same with the image of the dragon, except in his case, he's also a creature not a person, so having those modern qualities is even stranger.  Instead of breathing fire, he takes a drag of a cigarette and blows the smoke into your face.  Almost more insulting since you know he can breath fire, but is instead taunting you.  And that being both anachronistic and anthropomorphic (yes, I looked that word up, I learned something from this blog too!) was interesting to me.
To end the disscetion, I like sharing interesting youtube videos I stumble accross!  This one is a slide show created by fearandloathinggirl,  it uses a lot of Alice Pictures that I've never seen before!
Have a great week! I'm not going to post a new dissection this Friday and we'll see how crazy things get, but this might be the last one before the upcoming tour. I will instead be tour blogging from the road! The Song Dissections will resume when I'm back of course! In the meantime, tell me what your favourite fairy tale, fairytale related movie, or childhood fable is?
xo
Jenn
Previous Song Dissections:
1000 Transmissions
Bad List
Invisible
Analog Trash
Suck It Up
Insect Calm
If you've enjoyed reading this and wish to own this song and want to support me directly, please either check out my shop (I personally ship & sign anything you want), or you can purchase the mp3 of Blue Alice from iTunes for a mere dollar: